It is time for the fourth and final Digital Leap learning module! Almost thirty participants – both artists and producers working with dance and circus – from all seven countries will head to Marseille at the end of January. Before the module kicks off, we want to introduce the participants properly. Let's start by meeting the four artists from France!
Karla Arévalo studied Circus Arts in Italy, Sweden and France. There she discovered her great love for exploring the human body in suspension. Today she works in the creation of her project Lei – LÀ. A Circus Ritual Experience. She performs solo and collaborates with other stage productions around the world as well.
Karla is a circus artist passionate about investigating the fragility and temporality of each moment, creating abstract universes in the air and on the ground. Karla took part in the first two learning modules in Prague and Vilnius in spring 2022.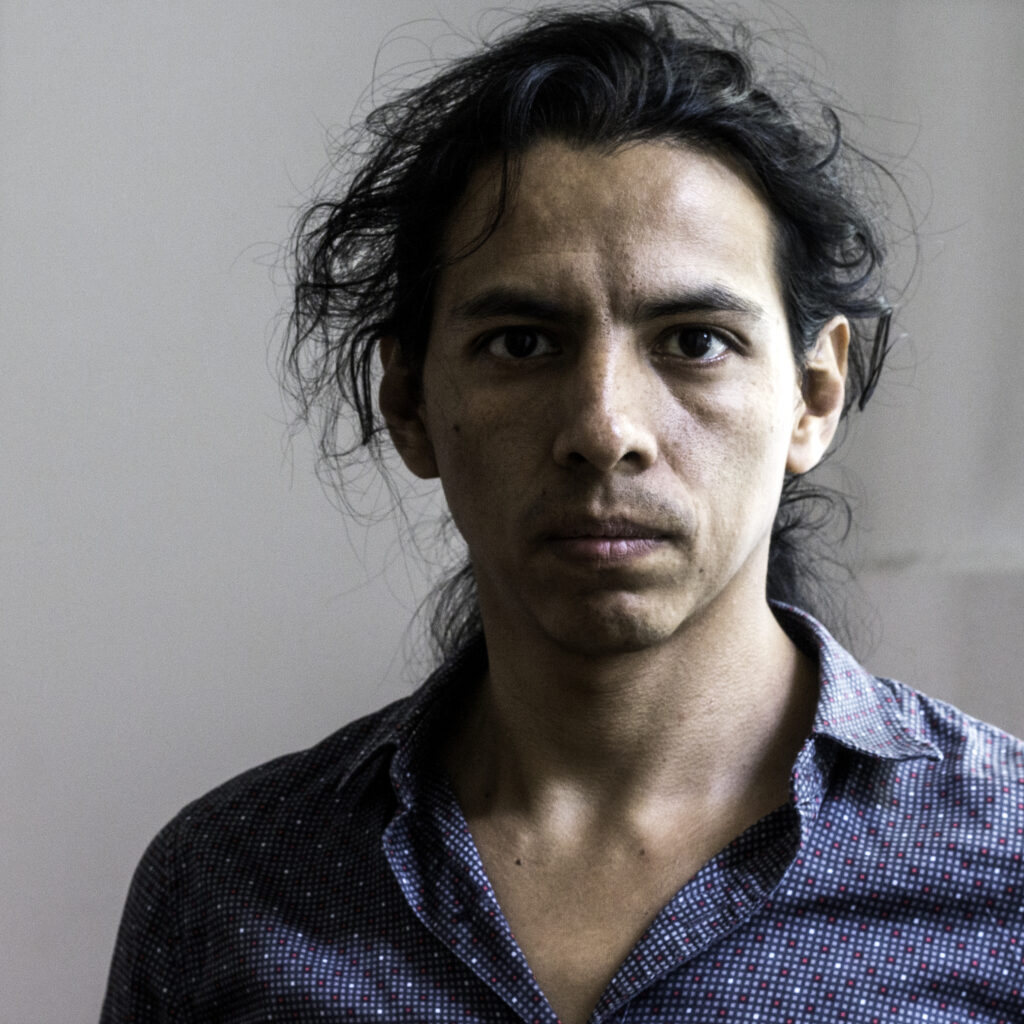 Aarón Govea is a performing artist who focuses his work in the poetry of the corporal expression departing from humorous and absurd situations as inspiration to show fragments of reality and human behaviour. His scenic language grows from various disciplines experimented in a non-hierarchical creation process, ending up sometimes in a surrealist, minimalist or abstract aesthetic. He considers the performance as a ritual space to gather and share.
Aaron has already been to Vilnius and Terrassa with Digital Leap, and is ready to look at digitalization from yet another angle: "My goal is to acquire knowledge about these platforms and other ways of performing than the traditional way."
Romain Robert started his circus career by exploring different disciplines in a youth circus school in Angoulême, France for seven years. While in high school at Ecole Nationale de Cirque de Châtellerault, he met a Chinese pole. He began building a long-term relationship with the Chinese pole, and together they wanted to push the limits of the discipline. They landed in Stockholm at Stockholm University of the Arts, where Romain not only developed high technical skills and movement qualities, he invented a new type of pole.
Romain took part in the first learning module held in Prague back in spring 2022.
Alessandra Ventrella is an author, director and co-founder of the company DispensaBarzotti based in Marseille since 2018. Oscillating between visual theatre and circus, she has signed original creations that seek to question the idea of perception, the relationship between animate and inanimate and between reality and magic. Alessandra's aim is to create and produce projects that focus on all forms of writing and new magic.
Alessandra is curious about emerging participatory and immersive practices. "I am very concerned with issues of inclusion. I think this project can also help me to develop my association and broaden its horizons", Alessandra says.