The fourth and final Digital Leap learning module kicks off at the end of this month! Before the participants – both artists and producers working with dance and circus – head to Marseille, we want to introduce them properly. Next up are the five participants from Finland!
Rosaliina Elgland is a producer in performing arts and an artist working with photography and moving image. She is interested in interdisciplinary collaboration, socially engaged art and interfaces between performing art and technology. Rosaliina works for Company Uusi Maailma (eng. Company New World), which is a performing arts group based in Jyväskylä, Central Finland. The company is specialized in site-specific works, progressive circus and physical theatre. They have performed internationally in the UK, Russia, Sweden and Germany. Rosaliina also works as a producer for Zodiak – Center for New Dance's audience engagement project Good Vibes East.
Rosaliina hopes to exchange ideas with fellow artists and producers that are interested in the future possibilities of live art, media platforms and technology: "I am particularly interested in what this can mean artistically; how to create authentic visual identity through an online platform in the context of performing arts."
Hanna Kahrola is a Tampere based dance artist and performer who studied in Copenhagen. Occasionally she works in other parts of Finland as well as e.g. in Baltic and Nordic countries. She is passionate about both performing and creating. Lately, she has been funded to work in collective, power relation conscious and interactive artistic processes. Her recent dancer work moves around the political issues of humanity, its problems and interfaces. The most recent works as a dancer are "Bypassed – Moving Pictures of Trafficking in Human Beings" – a Living exhibition (2021-) together with visual artist Maijariitta Karhulahti and working group, "becoming-with" (2021) piece choreographed by Wilhemina Ojanen and the interdisciplinary urban space projects of "fema artist collective" (2018-) together with researchers and other performing art makers.
Hanna is interested in gaining new practical skills around the topics of the module and searching for ways to create existing and new connections with her audience digitally. "Still I see myself as a face-to-face or rather side-by-side arts practitioner and I see this module as a good way to gain new knowledge in the physical environment", Hanna says.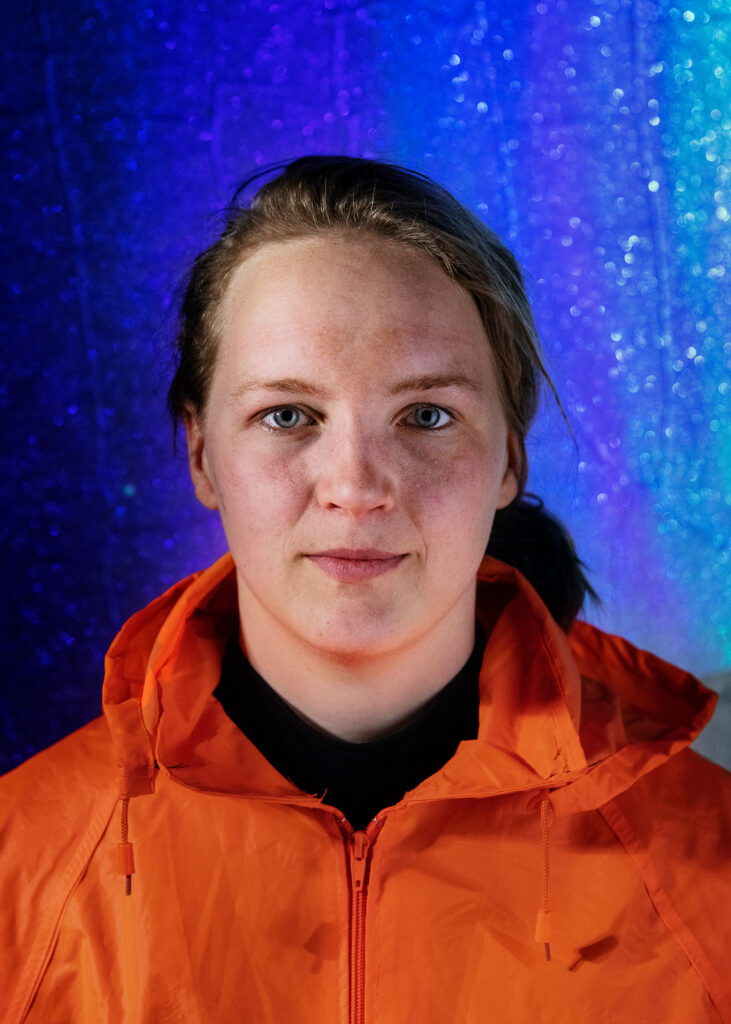 Vilhelmiina Sinervo is a freelance circus and movement artist from Finland. She finished her studies in Académie Fratellini (FR) in 2017 and has since worked both in Finland and internationally. She is specialised in balancing on slack rope, object manipulation and partner dances. In 2018 she established an artistic platform Vilus.art to make the world be seen from a slightly different point of view with art. Her solo project Life After is a contemporary circus show about the Universe and relativity of everything and it premiered in May 2022. With the orange costumed character of the show she continues to explore the reality around us. She is also a member of Circus and Music Association Agit-Cirk and Theatre Association Teatteri Telakka.
Vilhelmiina has participated in all the modules of Digital Leap and has been very happy with the learning content and the encounters with people and places. "This is a great way to connect with new information, new people and places and to grow as an artist", she says.
Antti Suniala is a circus producer working full time for the contemporary circus group Race Horse Company based in Helsinki Finland. Antti is a former circus artist and has toured internationally and directed and choreographed several shows. He has walked the audiovisual side of life semi-professionally as he has edited video since VHS and deejayed several music styles since the 90's. Most recently he has directed the circus short film "Walls Beneath Our Feet" for Race Horse Company. The Company's mission is artistic exploration, creation of circus performances and trying to benefit the performing arts field by running the new residency and performance space Tapanilan Sirkussali in Helsinki. 
Audience engagement, inclusion, accessibility and building social interactions through digital means are becoming more and more central to Antti's work. "Projects like Digital Leap are a great opportunity to connect, share ideas and learn from others. The world will be different in just a few years so let's dream big and do our part in changing it for the better", he says.
Iina Taijonlahti is a choreographer and media artist who studies the relationship between technology, humanity and corporeality in the era of posthumanism. She has choreographed various robots to her work, such as a humanoid robot, a security robot and a robot vacuum cleaner. Iina also works in various artistic assemblies with machine learning, sensors and various digitally produced visual elements. She also has future research studies. Iina is a founder member of Ekho Collective. Ekho Collective is a group of artists, designers and technology professionals, who specialize in immersive experiences. Their next project is the Peace Machine as part of Oulu's European Capital of Culture year 2026. In Ekho Iina is responsible for concept, the design of interactions and user experience.
Iina took part in the third learning module in Terrassa. She would like to explore new platforms and opportunities that she can take advantage of in her work: "I am interested in learning more about how digitality can be connected to kinesthetic empathy. Can digital platforms help towards body awareness and not just distancing us from our bodies?"