The third Digital Leap learning module will kick off in early October. Before the module begins, we want to introduce the amazing selected artists, who will spend five days full of learning and networking in Terrassa and Manresa, Catalunya. Let's start with the four artists from Lithuania!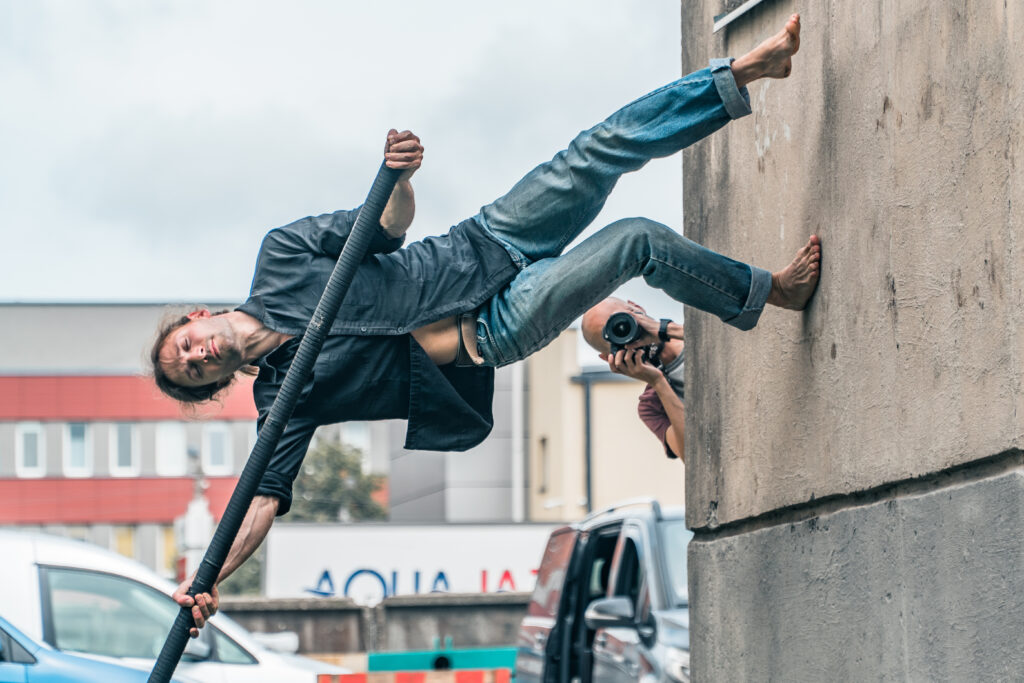 Konstantin Kosovec is a contemporary circus artist and creator based in Vilnius, Lithuania. His main interests and disciplines are vertical rope, straps, acrobatic dance and increasingly artistic research. Konstantin has been doing nomadic learning since 2010 and is currently doing a Master's Degree program in contemporary circus practices in SKH Stockholm (DOCH). He has created and participated in multiple shows collaborating with dance and circus artists, as well as teaching circus disciplines and judging competitions. Konstantin is a founding member of Taigi Cirkas company and the Contemporary Circus association of Lithuania, working together with Elena Kosovec, Izabele Kuzelyte, Aleksey Smolov.
Konstantin has clear learning goals for the module: "I will be looking for ways to use the technology for incorporating it better and more efficiently in the artistic practices as well as using it for marketing and management. Both directions are highly important in my future career".
Aino Mäkipää studied circus in Finland and after graduation she founded her own contemporary circus group Kanta Company with two of her classmates. They have created one full length show "Clothes and Us", which they have been performing with in Europe for over a year and are now in the creation process of their second show "107 Ways to Deal with Pressure" which will premier in summer 2023. Besides Kanta, Aino works in Cirko Sapiens, Lithuanian contemporary circus center, which offers circus classes for kids and adults, and residencies for artists. Aino also works on her solo pieces and likes to collaborate with artists, directors and with almost anyone who's passionate about circus.
Aino wants to learn how to make digital tools an advantage instead of a difficult must as she sometimes feels like. She also thinks that it could be a great way to reach new audiences: "I see all the potential in using digital tools more but I'm just not sure how".
Eglė Nešukaitytė is a performing artist and creator who is interested in interdisciplinarity (un-disciplinarity). She started her artistic exploration after the "Animato" dance program in Israel ("Nadine Bommer Dance Company") and an educational interdisciplinary program for creators "Anfibia". Eglė is creating digital projects, performances for stage, and taking part in dance, performance art, and interdisciplinary projects.
As her first personal project "Magic Carpet" was created for digital space, she is eager to expand her perception of digital possibilities: "It's not easy for me to accept digitality as an inevitability and that is the exact reason I want to explore more. I wasn't planning that my first personal creation will be digital, but it was and I really love it. So my goal is to not reject, but to get to know more and transform that knowledge for my creative goals".
Eglė Ukanytė is a freelance dance artist and choreographer who focuses on creating somatic dance performances. She has graduated from the Lithuanian Academy of Music and Theater with a Master's Degree in Theatre. Eglė has also had a year's exchange in Rome and experience in performing professionally with Lithuanian and Italian contemporary dance companies.
Eglė is interested in how the module could help her to better navigate in the digital processes of creating an art piece and how this knowledge could impact her as a choreographer: "I believe that the digital world has immersive ways to show art in all corners. I would like to know more digital ways/tools to fulfill a work of art".