In the weeks leading up to the first two Digital Leap learning modules we will introduce the participants properly. Now it is time to meet the five selected artists from France.
Karla Arévalo studied circus arts in Italy, Sweden and France and discovered her great love for exploring the human body in suspension. Today she works in the creation of her project Lei – LÀ. A Circus Ritual Experience. She performs solo and collaborates with other stage productions around the world as well. As a circus artist she is passionate about investigating the fragility and temporality of each moment, creating abstract universes in the air and on the ground.
Arévalo will participate in both of the modules. She decided to join the project as she is intrigued by the opportunities that digitalization brings: "I would like to explore the possibilities that these tools represent for performing arts in a responsible and creative way."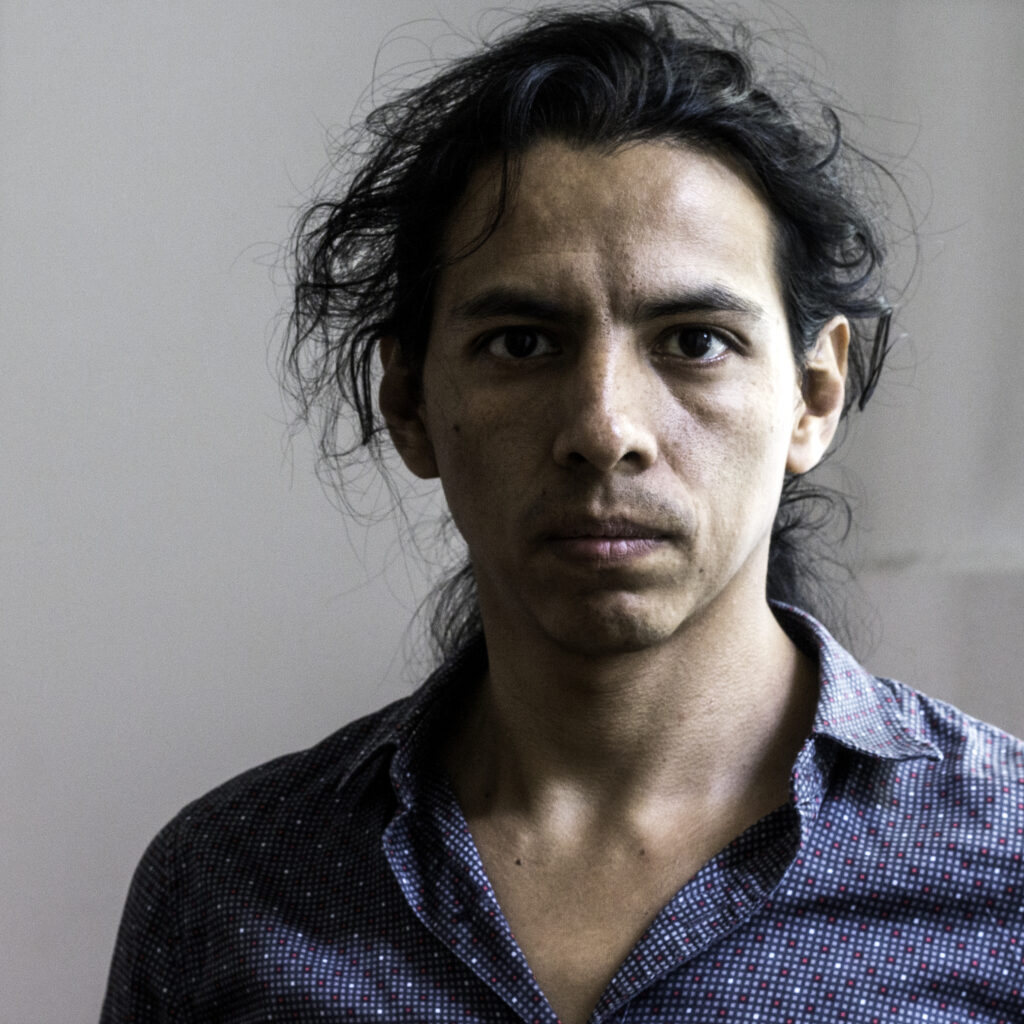 Aarón Govea is a performing artist who focuses his work on the poetry of the corporal expression departing from humorous and absurd situations as inspiration to show fragments of reality and human behavior. His scenic language grows from various disciplines experimented in a non-hierarchical creation process, ending up sometimes in a surrealist, minimalist or abstract aesthetic. He considers the performance as a ritual space to gather and share.
Govea will join the second module in Vilnius and is striving to expand his artistic toolkit: "I expect to gain a general and immersive understanding of XR and streaming technology in order to visualize further possibilities in scenic language."
Mairi Pardalaki is a dancer and choreographer from Athens based in Paris. She stages her work with a strong link to music and literature texts, often placing it outdoors. She also often collaborates in arts & science projects. She is currently working on a performance based on bilingual 19th century turkish-greek songs. 
Pardalaki will participate in the first module in Prague and is looking forward to working together with colleagues: "After this extensive pandemic time, I expect to physically meet people who work on bringing performing arts closer to new audiences and foster discussions together, exchange ideas, discover new tools".
Alice Rende is an Italian-Brazilian circus artist, trained at the National Circus School of Brazil (Rio de Janeiro) and at the Esacto Lido School of Circus in Toulouse. As a performer, she participated in the creation Silenzio by Roberto Magro in 2018 and Le Moindre Geste by Julia Christ in 2020. She created her first solo Passages for the El Grec Festival in Barcelona in 2019 and is currently working on Fora, a long form. At the same time, she is developing a doctoral research on vertigo in the performing arts.
Rende will participate in both modules with a curious mindset: "I hope to be surprised and find out things that I do not expect. I'm especially interested in hybridization and dialogues between technology and the living arts." 
Romain Robert started his circus career by exploring different disciplines in a youth circus school in Angoulême. While in high school at Ecole Nationale de Cirque de Châtellerault, he met a Chinese pole. He began building a long-term relationship with the Chinese pole, and together they wanted to push the limits of the discipline. They landed in Stockholm at Stockholm University of the Arts, where Robert not only developed high technical skills and movement qualities, he invented a new type of pole.
Robert will take part in the first module and is expecting to learn how to reach audiences digitally: "I would like to be more independent and comfortable promoting my work on digital and virtual media."